Women bloggers and entrepreneurs in the early years of business are often on a budget, and looking for ways to maximize their marketing dollar. One way to do this is by using free or low-cost stock photography – BUT – and this is a big but – not just any stock photography, and not without adding your own branded spin to those images.
Most stock images will not perfectly match your brand colors, but there are ways to subtly change the feeling of an image so that it does match. Taking the time to add treatments to stock photography ensures your marketing efforts are consistent and make sense with your existing brand aesthetic.
Don't have a brand in place yet? Take a look at our Quick Start Brand, a condensed identity design exercise that delivers all the brand assets you need to confidently launch your business and website.
The Easy Artisan Websites colors are pink and black, and in this article, I'll show you how I added various treatments to stock photography to create a seamless brand experience.
Create your own branded images using stock photography.

Use Your Brand Fonts to Create Custom Stock Images
When you use a consistent set of fonts on all your graphics it makes it easy for your audience to identify your brand when they are scrolling through their social media feeds. You will literally stick out like a sore thumb – but in this case that's a good thing!
Choose up to a maximum of 3 fonts to use randomly and regularly on all your imagery. Your brand font collection may include a serif font, a sans serif font and/or a script font. If not, try using the following tools for some inspiration. My advice is choose one serif or sans serif font family that comes in multiple weights, and pair it with a script font.
Google Type ~ for inspiration and font pairs
Type Connection ~ fun, font pairing tool
Typespiration ~ for inspiration and font pairs
When you combine these font styles in a consistent and predictable way, your stock photography will start to look like it was shot just for you and your business.
There are many font factories on the internet with pricing ranging from free to hundreds of dollars per font. Below are some resources to check out.
Google Fonts ~ free for commercial use fonts
Creative Market ~ affordable commercial use fonts
MyFonts ~ wide variety of premium font families
Before
After
Use Your Brand Colours to Stock Photography
The easiest way to add your brand colours to stock photography is by using text and graphic overlays – the goal is to make the image both informational and on brand.
Remember that you can't slap just any color on top of any image. It depends on how your colour palette relates to the colours in the image you want to use. A good rule of thumb is to stick with neurtral coloured images. This way you will have a wider choice in what colors you can use with it. Use your best judgement and, when in doubt, play with some colour palette generators to explore pleasing color combinations. One of my favourites is Coolors.
Alternately, if your brand colours are neutral, you can add them to a wider range of stock images successfully. Either way, don't be afraid to play around with some unique color combinations to see what really resonates with your brand.
Before
After
Add Your Logo to Create Branded Images
This may seem like a no brainer, but it is by far the easiest way to brand a stock image. You can add your logo and web address to any stock image – provided you have purchased the proper license – or it is licensed as "free for commercial use".
This is a fabulous way to build brand recognition. Brand recognition will help keep your business and website at the top of your follower's minds. When your audience sees the image stamped with your name and web address, it is much more memorable than an image with no identifying marks at all. Start taking this simple but important step for any images that you post online, in your blog articles and social media posts.
If you tend to get a little lazy like me, try making yourself some templates in Photoshop or Canva. You can use them over and over by simply replacing the image and changing up the message.
Before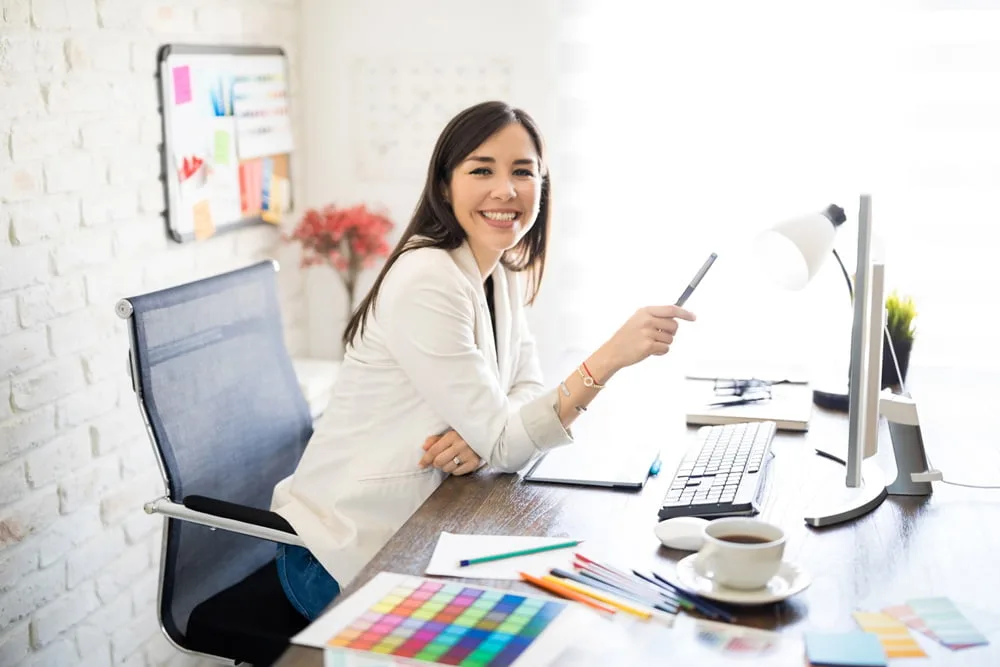 After
It's as simple as that!
So, in a nutshell, the next time you want to use stock photography on your website remember to:
use stock photos with a neutral colour palette
use your brand fonts – using different weights and a fancy script
use your brand colours – in transparent overlays and font treatments
add your logo – and start building brand recognition
Happy branding!